Competence: The key to success when applying for remote jobs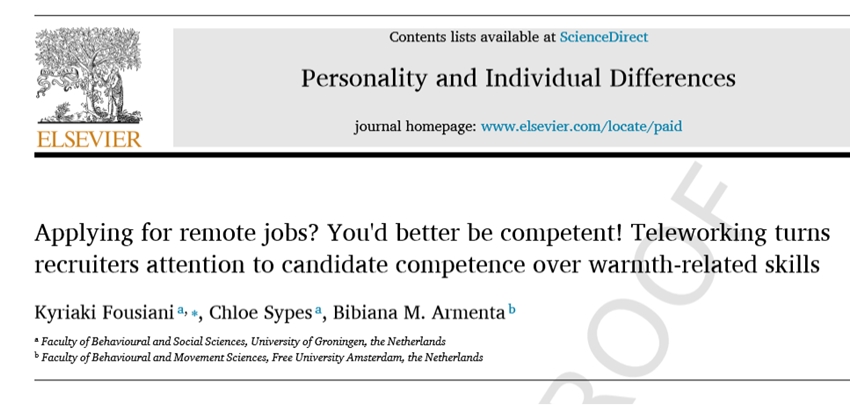 Real-life examples underscore the primacy effect of candidate competence over warmth in hiring decisions in organizations. For instance, most job interviews focus on the candidate's capabilities and intellectual skills while less effort is put into extracting information about the candidate's social skills. In a recently published paper in Personality and Individual Differences, Kyriaki Fousiani and her colleagues found that teleworking creates conditions that further undermine the importance of workers' social skills, which are inherent to people's wellbeing and organizational progress.
The article can be found here.
Abstract:
Person Perception Theory suggests that two traits, warmth and competence, govern social judgments of individuals and that warmth has a primacy effect over competence because of its capability to predict people's intentions. Drawing on economic (i.e., rational) decision-making theories, we hypothesized that in organizations, which are by definition concerned with instrumental goals (i.e., maximization of profits and minimization of costs), worker competence is more important than worker warmth and influences hiring decisions about candidates. Moreover, we hypothesized that teleworking turns recruiters' attention to candidate competence (over warmth) to a greater extent than onsite work. Supporting our hypothesis, Study 1, a vignette experiment, showed that people manifest a stronger intention to recruit a candidate who is highly competent (although less warm), while this effect was stronger when the work-setting favored teleworking. Study 2 (preregistered), a field experiment with recruiter participants, further showed that recruiters are more inclined to hire highly competent (although less warm) candidates when the work-setting favors teleworking through the perception of competent candidates as more appropriate for a job. These results provide evidence for a reversal of the primacy effect of warmth at work and illuminate the important role of work-setting (online vs. onsite) in recruiters' hiring decisions.